12.03.2019
Before I came to Helsinki for my internship, I didn't know much about the Finnish people or Finland in general. I realised that showing up in Helsinki with zero prior knowledge about anything Finnish was probably not a good idea, so I did some quick internet searches to find out what the Finnish lifestyle and culture were all about. What I found was three specific things which I named the Three S's of Finland: Sauna, Salmiakki, and – "Shit, does it really get that cold up there?!"
At first, it seemed a bit excessive that a country would have one sauna for every two citizens. Later, however, when the winter set in with its freezing temperatures and short days, I realised that it wasn't so hard to see the appeal after all.
Salmiakki, or salty liquorice, was something I was truly happy to read about, as it was something I had loved since I was a child. I was particularly pleased to realise that there existed a country where salty liquorice was accepted for the delicacy that it is.
As for the cold, I was lucky enough to arrive in Finland right after one of the hottest summers in years. The pleasant, warm weather continued for my first weeks in the country, giving me some time to explore Helsinki and the areas nearby before the inevitable cold of the Finnish winter began to creep in. I saw the city's main sights, the Helsinki Cathedral and the like, and I also managed to get out to the woods for walks, finding mushrooms and blueberries!
Of course, my time in Finland wasn't simply an overextended holiday. I had come here to work and do my internship at the marketing agency Avalon. When my first week of work started, there was, however, one obvious problem. I hadn't yet found a place to stay. Every morning I headed to the office from a hostel where I slept in a dormitory with quite a few other people. It would be justifiable to ask how could it be that I hadn't arranged this before coming to Finland. To this I say: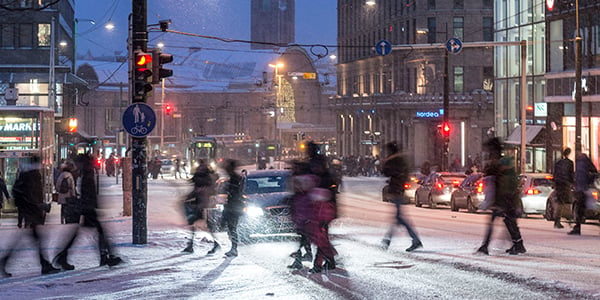 But it was harder than I had anticipated.
Thankfully, my colleagues at Avalon were very kind and tried to assist me in finding an apartment by recommending Facebook pages and even posting a notification on my behalf. In the end, though, it was by a pure stroke of luck that I found an ad for an apartment right after it had been posted, and managed to secure it with my quick wits and awesome charm.
Once I finally had an apartment, my work could start in earnest. The days were filled with gruelling labour in extreme conditions. Imagine my horror upon seeing that the coffee at the office was not made with freshly ground beans, but rather with pre-ground ones. In time, even this heathen practice became commonplace for me, and my life in Finland settled into its course.
Over the months of work, I got to experience and learn many interesting things and take part in company activities, like Halloween and the pre-Christmas party. It was great to have a proper white Christmas, instead of the drab grey one that I was used to. With New Year's right around the corner and my last days of work quickly approaching, I realised with profound sadness that I would soon have to leave. Because all jokes aside, I really did have a great time in Finland and I met many wonderful and kind people during my stay here. All I can do now is say a heartfelt thank you to Pete Laakso and everyone at Avalon for helping me to have an engaging and great internship. I hope to see you again someday.
All the best, and kind regards,
Rogier Zappeij